Nadia Barbero
Associate Professor
SSD: CHIM/06 - organic chemistry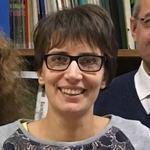 Contacts
0116707597 / 0116705323
Dipartimento di Chimica
Via P. Giuria 7,
10125 Torino
At
Department of Chemistry
Dipartimento di Chimica
Corso di laurea in Chimica e Tecnologie Chimiche
Corso di laurea in Scienza dei Materiali
Corso di laurea in Scienza e Tecnologia dei Materiali
Corso di laurea in Scienze Biologiche (L-13)
Master degree in Materials Science
PhD in Chemical and Materials Sciences
Curriculum vitae
Curriculum Vitae (0.3 MB)
Research products
All my research products
Selected research products
SELECTED PUBLICATIONS:
- C. Butnarasu, N. Barbero, C. Barolo, S. Visentin. Squaraine dyes as fluorescent turn-on sensors for the detection of porcine gastric mucin: A spectroscopic and kinetic study. J. Photochem. Photobiol. B: Biol. (2020), 205, Article number 111838.
- B. Ciubini, S. Visentin, L. Serpe, R. Canaparo, A. Fin, N. Barbero*. Design and synthesis of symmetrical pentamethine cyanine dyes as NIR photosensitizers for PDT. Dyes and Pigments (2019), 160, 806–813.
- N. Barbero, C. Butnarasu, S. Visentin, C. Barolo. Squaraine Dyes: Interaction with Bovine Serum Albumin to Investigate Supramolecular Adducts with Aggregation-Induced Emission (AIE) Properties. Chem. Asian J. (2019), 14, 896–903.
- G. Alberto, N. Barbero*, C. Divieto, E. Rebba, M. P. Sassi, G. Viscardi, G. Martra. Solid silica nanoparticles as carriers of fluorescent squaraine dyes in aqueous media: Toward a molecular engineering approach. Colloids and Surfaces A (2019), 568, 123–130.
- G.M. Paternò, N. Barbero, S. Galliano, C. Barolo, G. Lanzani, F. Scotognella, R. Borrelli. Excited State Photophysics of Squaraine Dyes for Photovoltaic Applications: an Alternative Deactivation Scenario. J. Mater. Chem. C (2018), 6(11), 2778-2785. I.F. 5.976
- S. Galliano, V. Novelli, N. Barbero*, A. Smarra, G. Viscardi, R. Borrelli, F. Sauvage, C. Barolo. Dicyanovinyl and Cyano-Ester Benzoindolenine Squaraine Dyes: The Effect of the Central Functionalization on Dye-Sensitized Solar Cell Performance. Energies. (2016), 9, 486. doi:10.3390/en9070486.
- N. Barbero, M. Marenchino, R. Campos-Olivas, S. Oliaro-Bosso, L. Bonandini, J. Boskovic, G. Viscardi, S. Visentin. Carbon nanotubes and Porcine Gastric Mucin (PGM) interaction: effect of CNTs functionalization. J Nanopart. Res. (2016), 18, 84.
- L. Serpe, S. Ellena, N. Barbero*, F. Foglietta, F. Prandini, M. P. Gallo, R. Levi, C. Barolo, R. Canaparo, S. Visentin. Squaraines bearing halogenated moieties as anticancer photosensitizers: synthesis, characterization and biological evaluation. Eur. J. Med. Chem. (2016), 113, 187-197, DOI: 10.1016/j.ejmech.2016.02.035.
- D. Saccone, S. Galliano, N. Barbero, P. Quagliotto, G. Viscardi, C. Barolo. Polymethine dyes in hybrid photovoltaics: structure-properties relationships. Eur. J. Org. Chem. (2016), 2016 (13), 2244–2259. DOI: 10.1002/ejoc.201501598.
- N. Barbero, C. Magistris, J. Park, D. Saccone, P. Quagliotto, R. Buscaino, C. Medana, C. Barolo, G. Viscardi. Microwave-Assisted Synthesis of Near-Infrared Fluorescent Indole-Based Squaraines. Org. Lett. (2015), 17 (13), 3306–3309.
Research topics
Dal 2016 mi occupo della sintesi, purificazione e caratterizzazione di molecole organiche fluorescenti da utilizzare come fotosensibilizzatori per la Terapia Fotodinamica (PDT). In particolare, sono interessata alla sintesi di coloranti polimetinici (squaraine e cianine) con diversi gruppi funzionali per promuovere la generazione di ossigeno singoletto, alla loro caratterizzazione mediante spettroscopia di fluorescenza e allo studio della loro interazione con proteine modello o DNA.
Durante gli anni trascorsi come Post-Doc mi sono occupata della sintesi di complessi organometallici e di coloranti completamente organici per celle solari sensibilizzate con colorante (DSSC).
Ho raggiunto importanti risultati scientifici nel campo delle DSC negli ultimi anni di lavoro come studente post-dottorato presso l'Università di Torino e il LRCS (Laboratoire de Réactivité et de Chimie des Solides) di Amiens e anche come ricercatore senior presso Dyepower (consorzio il cui obiettivo è l'applicazione industriale di pannelli solari tipo DSC per la Building Integrated Photovoltaics). Ho lavorato su tutti gli aspetti delle DSSC: coloranti (sintesi organica, purificazione e caratterizzazione NMR, IR, fluorescenza, elettrochimica), elettroliti, ossidi (sintesi inorganica, caratterizzazione XRD, SEM, TEM, BET) acquisendo anche capacità nell'assemblaggio delle celle e nella loro caratterizzazione (misurazione delle efficienze, curve I-V, IPCE).
Altre tematiche sviluppate nel corso degli anni comprendono anche la funzionalizzazione e caratterizzazione strutturale e spettroscopica di nanotubi di carbonio, trattamenti superficiali mediante plasma a pressione atmosferica e studio cinetico e spettroscopico di interazioni di carattere biologico.
Research groups
Activities in agenda
Academic bodies
Office hours
Tutti i giorni, previo appuntamento.