Francesca Cardano
(RTDa) Research Fellows
SSD: CHIM/06 - organic chemistry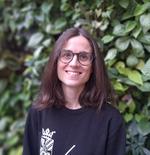 Contacts
0116707887
n/d
Via Pietro Giuria 7, 10125 Torino
At
Department of Chemistry
Dipartimento di Chimica
Corso di Laurea in Biotecnologie
Corso di laurea magistrale in Chimica Industriale
PhD in Chemical and Materials Sciences
Curriculum vitae
Curriculum Vitae (0.5 MB)
Research topics
L'attività di ricerca, sviluppata in stretta collaborazione con il Prof. A. Fin, unisce la chimica organica e la chimica fisica principalmente tramite lo studio di composti cromoforici-fluorescenti-fotocromici per applicazioni in: biologia chimica, nanobiotecnologie, farmacologia.
The research activities developed in close collaboration with Prof. A. Fin reside at the interface between organic chemistry and physical chemistry. These activities mainly focus on the the study of chromophoric-fluorescent-photocromic compounds toward applications in chemical biology, nanobiotechnology and pharmacology.
ERC panels:
PE5_17 Organic chemistry
PE5_11 Biological chemistry
LS1_8 Molecular biophysics (e.g. single-molecule approaches, bioenergetics, fluorescence)
LS7_1 Imaging for medical diagnosis
LS7_4 Pharmacology and pharmacogenomics (including drug discovery and design, drug delivery and therapy, toxicology)
Activities in agenda
Academic bodies
Office hours
Tutti i giorni, tramite appuntamento via email.