Marta Corno
Associate Professor
SSD: CHIM/02 - physical chemistry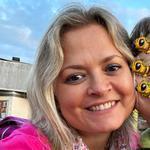 Contacts
(+39) 011 670 2439
Dipartimento di Chimica
Via Pietro Giuria, 7
10125 Torino
At
Department of Chemistry
Dipartimento di Chimica
Biotechnological and Chemical Sciences in Diagnostics
Corso di laurea Scienze delle Attività Motorie e Sportive L-22 - Cuneo
Corso di laurea in Chimica e Tecnologie Chimiche
Corso di laurea in Chimica per la manifattura sostenibile
Corso di laurea in Scienza dei Materiali
Corso di laurea in Scienza e Tecnologia dei Materiali
Corso di laurea magistrale in Chimica
SUISM - Struttura Universitaria di Igiene e Scienze Motorie
PhD in Chemical and Materials Sciences
Research products
All my research products
Selected research products
Gulino V , Dematteis E M , Corno M , Palumbo M , Baricco M (2021)
Theoretical and Experimental Studies of LiBH4-LiBr Phase Diagram.
https://iris.unito.it/handle/2318/1804161
Pierri, Giovanni, Corno, Marta, Macedi, Eleonora, Voccia, Maria, Tedesco, Consiglia (2021)
Solid-State Conformational Flexibility at Work: Energetic Landscape of a Single Crystal-to-Single Crystal Transformation in a Cyclic Hexapeptoid.
https://iris.unito.it/handle/2318/1768503
Ferrero R , Pantaleone S , Delle Piane M , Caldera F , Corno M , Trotta F , Brunella V (2021)
On the interactions of melatonin/β-cyclodextrin inclusion complex: A novel approach combining efficient semiempirical extended tight-binding (xtb) results with ab initio methods.
https://iris.unito.it/handle/2318/1835394
Pantaleone S , Corno M , Rimola A , Balucani N , Ugliengo P (2021)
Ab Initio Computational Study on Fe2NiP Schreibersite: Bulk and Surface Characterization.
https://iris.unito.it/handle/2318/1836868
Cutini M , Bechis I , Corno M , Ugliengo P (2021)
Balancing Cost and Accuracy in Quantum Mechanical Simulations on Collagen Protein Models.
https://iris.unito.it/handle/2318/1836877
Germain A , Corno M , Ugliengo P (2021)
Computing Binding Energies of Interstellar Molecules by Semiempirical Quantum Methods: Comparison Between DFT and GFN2 on Crystalline Ice.
https://iris.unito.it/handle/2318/1836883
Perrero J , Rimola A , Corno M , Ugliengo P (2021)
Ab initio Calculation of Binding Energies of Interstellar Sulphur-Containing Species on Crystalline Water Ice Models.
https://iris.unito.it/handle/2318/1836884
Rimola A , Ferrero S , Germain A , Corno M , Ugliengo P (2021)
Computational surface modelling of ices and minerals of interstellar interest—insights and perspectives.
https://iris.unito.it/handle/2318/1836886
Albanese E , Corno M , Baricco M , Civalleri B (2021)
Simulation of nanosizing effects in the decomposition of Ca(BH4)2 through atomistic thin film models.
https://iris.unito.it/handle/2318/1766994
Dematteis, Erika Michela, Barale, Jussara, Corno, Marta, Sciullo, Alessandro, Baricco, Marcello, Rizzi, Paola (2021)
Solid-State Hydrogen Storage Systems and the Relevance of a Gender Perspective.
https://iris.unito.it/handle/2318/1806690
Cutini, Michele, Corno, Marta, Costa, Dominique, Ugliengo, Piero (2019)
How does collagen adsorb on hydroxyapatite? Insights from Ab initio simulations on a polyproline type II model.
https://iris.unito.it/handle/2318/1696318
Peccati, Francesca, Bernocco, Cristina, Ugliengo, Piero, Corno, Marta (2018)
Properties and Reactivity toward Water of A Type Carbonated Apatite and Hydroxyapatite Surfaces.
https://iris.unito.it/handle/2318/1692040
Cutini, Michele, Corno, Marta, Ugliengo, Piero (2017)
Method dependence of proline ring flexibility in the poly-L-proline type II polymer.
https://iris.unito.it/handle/2318/1634338
Musso, Federico, Casassa, Silvia, Corno, Marta, Ugliengo, Piero (2017)
How strong are H-bonds at the fully hydroxylated silica surfaces? Insights from the B3LYP electron density topological analysis.
https://iris.unito.it/handle/2318/1634284
Corno, Marta, Delle Piane, Massimo, Choquet, Patrick, Ugliengo, Piero (2017)
Models for biomedical interfaces: a computational study of quinone-functionalized amorphous silica surface features.
https://iris.unito.it/handle/2318/1634332
Zamirri, Lorenzo, Corno, Marta, Rimola, Albert, Ugliengo, Piero (2017)
Forsterite Surfaces as Models of Interstellar Core Dust Grains: Computational Study of Carbon Monoxide Adsorption.
https://iris.unito.it/handle/2318/1656218
Dematteis, Erika M , Pinatel, Eugenio R , Corno, Marta, Jensen, Torben R , Baricco, Marcello (2017)
Phase diagrams of the LiBH4-NaBH4-KBH4 system.
https://iris.unito.it/handle/2318/1659729
Dematteis, Erika M , Roedern, Elsa, Pinatel, Eugenio R , Corno, Marta, Jensen, Torben R , Baricco, Marcello (2016)
A thermodynamic investigation of the LiBH4-NaBH4 system.
https://iris.unito.it/handle/2318/1570876
Delle Piane, Massimo, Corno, Marta, Orlando, Roberto, Dovesi, Roberto, Ugliengo, Piero (2016)
Elucidating the fundamental forces in protein crystal formation: The case of crambin.
https://iris.unito.it/handle/2318/1591934
Cutini, Michele, Civalleri, Bartolomeo, Corno, Marta, Orlando, Roberto, Brandenburg, Jan Gerit, Maschio, Lorenzo, Ugliengo, Piero (2016)
Assessment of different quantum mechanical methods for the prediction of structure and cohesive energy of molecular crystals.
https://iris.unito.it/handle/2318/1591984
Delle Piane, Massimo, Corno, Marta, Ugliengo, Piero (2016)
Propionic acid derivatives confined in mesoporous silica: monomers or dimers? The case of ibuprofen investigated by static and dynamic ab initio simulations.
https://iris.unito.it/handle/2318/1591955
Chiatti, Fabio, Delle Piane, Massimo, Ugliengo, Piero, Corno, Marta (2016)
Water at hydroxyapatite surfaces: the effect of coverage and surface termination as investigated by all-electron B3LYP-D* simulations.
https://iris.unito.it/handle/2318/1591970
Corno, Marta, Delle Piane, Massimo, Monti, Susanna, Moreno-Couranjou, Maryline, Choquet, Patrick, Ugliengo, Piero (2015)
Computational Study of Acidic and Basic Functionalized Crystalline Silica Surfaces as a Model for Biomaterial Interfaces.
https://iris.unito.it/handle/2318/1526610
Gignone, Andrea, Delle Piane, Massimo, Corno, Marta, Ugliengo, Piero, Onida, Barbara (2015)
Simulation and Experiment Reveal a Complex Scenario for the Adsorption of an Antifungal Drug in Ordered Mesoporous Silica.
https://iris.unito.it/handle/2318/1526609
Research topics
Modellizzazione statica e dinamica di processi di adsorbimento all'interfaccia per biomateriali ceramici - Static and dynamic modeling of interface adsorption processes for ceramic biomaterials
Simulazione quanto-meccanica di materiali allo stato solido e loro superfici in interazione con biomolecole - Quantum-mechanical simulation of solid-state materials and their surfaces in interaction with (bio)molecules
Chimica prebiotica e astrochimica: studio del ruolo delle superfici di minerali come catalizzatori di idrogeno molecolare e altre piccole molecole; simulazione di nubi interstellari e loro reattività - Prebiotic chemistry and astrochemistry: study of the role, as catalysts, that mineral surfaces may have played for the formation of molecular hydrogen; models of interstellar clouds and their reactivity
Simulazione di materiali solidi rilevanti per lo stoccaggio di idrogeno - Simulations of solid materials relevant for hydrogen storage
Biomateriali e sistemi a rilascio controllato di farmaci - Biomaterials and drug-delivery
Comunicazione e divulgazione scientifica - Scientific communication and dissemination
Research groups
Office hours
Ricevo sempre su appuntamento (scrivere una e-mail all'indirizzo marta.corno@unito.it) per colloqui di persona nel Dipartimento di Chimica, in via Giuria 7, al piano terra.
Quando non sia possibile di persona, il ricevimento sarà via Webex o Skype, sempre previo contatto via mail.
Write an email to marta.corno@unito.it to arrange a meeting in via Giuria 7, ground floor.
Whenever not possible in person, meetings will be arranged via Webex or Skype, after email contact.