Francesco Turci
Associate Professor
SSD: CHIM/03 - general and inorganic chemistry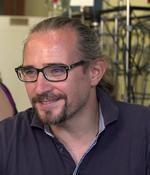 Contacts
011 670 7566 / 7577
Dipartimento di Chimica
Via P. Giuria, 9
III piano
10125 Torino, Italia
At
Department of Chemistry
Dipartimento di Chimica
Corso di laurea in Chimica per la manifattura sostenibile
Corso di Laurea in Produzioni e Gestione degli Animali in Allevamento e Selvatici - PGAAS
Corso di Laurea in Sistemi zootecnici sostenibili - SIZOS
Corso di laurea magistrale in Chimica
Degree Course in Veterinary Medicine
Laurea Magistrale a Ciclo Unico in Medicina Veterinaria
Dottorato in Scienze Farmaceutiche e Biomolecolari
PhD in Chemical and Materials Sciences
Research products
All my research products
Selected research products
(last 5 years 2019 - 2023)
Nearly free silanols drive the interaction of crystalline silica polymorphs with membranes: Implications for mineral toxicity
2023-01-01 Pavan, Cristina; Escolano-Casado, Guillermo; Bellomo, Chiara; Cananà, Stefania; Tomatis, Maura; Leinardi, Riccardo; Mino, Lorenzo; Turci, Francesco https://iris.unito.it/handle/2318/1886225
Waterborne asbestos: Good practices for surface waters analyses
2023-01-01 Chiara Avataneo, Silvana Capella, Mariagrazia Luiso, Giuliana Marangoni, Manuela Lasagna, Domenico A. De Luca, Massimo Bergamini, Elena Belluso, Francesco Turci https://iris.unito.it/handle/2318/1891819
Waste, Environment, and Sanitary Issues: Are They Really at Odds?
2023-01-01 Maura Tomatis, Jasmine Rita Petriglieri, Francesco Turci https://iris.unito.it/handle/2318/1905412
Chrysotile asbestos migration in air from contaminated water: An experimental simulation
2022-01-01 Chiara Avataneo, Jasmine R. Petriglieri, Silvana Capella, Maura Tomatis, Mariagrazia Luiso, Giuliana Marangoni, Elisa Lazzari, Silvio Tinazzi, Manuela Lasagna, Domenico A. De Luca, Massimo Bergamini, Elena Belluso, Francesco Turci https://iris.unito.it/handle/2318/1817296
Top-Down Preparation of Nanoquartz for Toxicological Investigations
2022-01-01 Bellomo, Chiara; Pavan, Cristina; Fiore, Gianluca; Escolano-Casado, Guillermo; Mino, Lorenzo; Turci, Francesco https://iris.unito.it/handle/2318/1886222
The Potential Contribution of Hexavalent Chromium to the Carcinogenicity of Chrysotile Asbestos
2022-01-01 Walter M.; Schenkeveld W.D.C.; Tomatis M.; Schelch K.; Peter-Vorosmarty B.; Geroldinger G.; Gille L.; Bruzzoniti M.C.; Turci F.; Kraemer S.M.; Grusch M. https://iris.unito.it/handle/2318/1885140
Cytotoxicity of fibrous antigorite from New Caledonia
2022-01-01 Gazzano, Elena; Petriglieri, Jasmine Rita; Aldieri, Elisabetta; Fubini, Bice; Laporte-Magoni, Christine; Pavan, Cristina; Tomatis, Maura; Turci, Francesco https://iris.unito.it/handle/2318/1890586
Interaction of Layered Silicates with Biomembranes: Ion Exchangers and Non-Exchangers
2022-01-01 Canana, S; Pavan, C; Bellomo, C; Escolano-Casado, G; Chilla, G; Lison, D; Mino, L; Turci, F https://iris.unito.it/handle/2318/1886219
Molecular recognition between membrane epitopes and nearly free surface silanols explains silica membranolytic activity
2022-01-01 Pavan C.; Sydor M.J.; Bellomo C.; Leinardi R.; Canana S.; Kendall R.L.; Rebba E.; Corno M.; Ugliengo P.; Mino L.; Holian A.; Turci F. https://iris.unito.it/handle/2318/1869462
Portable Raman spectrometer for in situ analysis of asbestos and fibrous minerals
2021-01-01 Petriglieri J.R.; Bersani D.; Laporte-Magoni C.; Tribaudino M.; Cavallo A.; Salvioli-Mariani E.; Turci F. https://iris.unito.it/handle/2318/1768827
History and Future Perspectives for the Evaluation of the Toxicity of Celestial Dust
2021-01-01 INGRID CORAZZARI, MARCO DURANTE, BICE FUBINI, PER GERDE, LARS L. KARLSSON, DAG LINNARSSON, DAVID J. LOFTUS, FRANCESCA MCDONALD, LENA PALMBERG, G. KIM PRISK, URS STAUFER, WIM VAN WESTRENEN, ERIN M. TRANFIELD, FRANCESCO TURCI https://iris.unito.it/handle/2318/1837933
Antioxidant Activity of Silica-Based Bioactive Glasses
2021-01-01 Ferraris S.; Corazzari I.; Turci F.; Cochis A.; Rimondini L.; Verne E. https://iris.unito.it/handle/2318/1805526
Short Preirradiation of TiO2 Nanoparticles Increases Cytotoxicity on Human Lung Coculture System
2021-01-01 Kose O.; Tomatis M.; Turci F.; Belblidia N.-B.; Hochepied J.-F.; Pourchez J.; Forest V. https://iris.unito.it/handle/2318/1795321
Hyphal morphology and substrate porosity -rather than melanization- drive penetration of black fungi into carbonate substrates
2021-01-01 Tonon C.; Breitenbach R.; Voigt O.; Turci F.; Gorbushina A.A.; Favero-Longo S.E. https://iris.unito.it/handle/2318/1788065
Morphological and chemical properties of fibrous antigorite from lateritic deposit of New Caledonia in view of hazard assessment
2021-01-01 Petriglieri, Jasmine R.; Laporte-Magoni, Christine; Salvioli-Mariani, Emma; Ferrando, Simona; Tomatis, Maura; Fubini, Bice; Turci, Francesco https://iris.unito.it/handle/2318/1781834
TGA coupled with FTIR gas analysis to quantify the vinyl alcohol unit content in ethylene-vinyl alcohol copolymer
2021-01-01 Corazzari I.; Turci F.; Nistico R. https://iris.unito.it/handle/2318/1770836
Elimination from Wastewater of Antibiotics Reserved for Hospital Settings, with a Fenton Process Based on Zero-Valent Iron
2021-01-01 Francesco Furia, Marco Minella, Fabio Gosetti, Francesco Turci, Raffaella Sabatino, Andrea Di Cesare, Gianluca Corno, Davide Vione https://iris.unito.it/handle/2318/1795019
Petrofacies for the prediction of NOA content in rocks: application to the "Gronda di Genova" tunneling project
2020-01-01 Botta S.; Avataneo C.; Barale L.; Compagnoni R.; Cossio R.; Marcelli I.; Piana F.; Tallone S.; Turci F. https://iris.unito.it/handle/2318/1768421
Geological mapping for executive design of civil infrastructures: Integration of GIS and AutoCAD informative systems for "gronda di Genova" highway tunnel
2020-01-01 Marcelli I.; Barale L.; Piana F.; Tallone S.; Botta S.; Brunamonte F.; Irace A.; Mosca P.; Compagnoni R.; Turci F. https://iris.unito.it/handle/2318/1768383
Cytotoxicity of fractured quartz on THP-1 human macrophages: role of the membranolytic activity of quartz and phagolysosome destabilization
2020-01-01 Leinardi R.; Pavan C.; Yedavally H.; Tomatis M.; Salvati A.; Turci F. https://iris.unito.it/handle/2318/1767997
Estimation of natural asbestos content in rocks by fracture network modeling and petrographic characterization
2020-01-01 Barale L.; Botta S.; Piana F.; Tallone S.; Fidelibus C.; Avataneo C.; Turci F.; Compagnoni R.; Cossio R.; Alberto W. https://iris.unito.it/handle/2318/1768413
Valorization of MSWI Bottom Ash as a Function of Particle Size Distribution, Using Steam Washing
2020-01-01 Destefanis, Enrico; Caviglia, Caterina; Bernasconi, Davide; Bicchi, Erica; Boero, Renato; Bonadiman, Costanza; Confalonieri, Giorgia; Corazzari, Ingrid; Mandrone, Giuseppe; Pastero, Linda; Pavese, Alessandro; Turci, Francesco; Wehrung, Quentin https://iris.unito.it/handle/2318/1762646
Waterborne Naturally Occurring Asbestos: a case study from Piedmont (NW Italy).
2020-01-01 Avataneo, Chiara; Belluso, Elena; Bergamini, Massimo; Capella, Silvana; De Luca, Domenico Antonio; Lasagna, Manuela; Turci, Francesco https://iris.unito.it/handle/2318/1890977
Direct and indirect assessment of the amount of naturally occurring asbestos in fractured rocks
2020-01-01 Piana F.; Barale L.; Botta S.; Compagnoni R.; Fidelibus C.; Tallone S.; Avataneo C.; Cossio R.; Turci F. https://iris.unito.it/handle/2318/1878082
Nearly free surface silanols are the critical molecular moieties that initiate the toxicity of silica particles
2020-01-01 Pavan, Cristina; Santalucia, Rosangela; Leinardi, Riccardo; Fabbiani, Marco; Yakoub, Yousof; Uwambayinema, Francine; Ugliengo, Piero; Tomatis, Maura; Martra, Gianmario; Turci, Francesco; Lison, Dominique; Fubini, Bice https://iris.unito.it/handle/2318/1766495
Hydroxyl radicals and oxidative stress: the dark side of Fe corrosion
2020-01-01 Scarcello E.; Herpain A.; Tomatis M.; Turci F.; Jacques P.J.; Lison D. https://iris.unito.it/handle/2318/1732441
SWCNT-porphyrin nano-hybrids selectively activated by ultrasound: an interesting model for sonodynamic applications
2020-01-01 Bosca F.; Corazzari I.; Foglietta F.; Canaparo R.; Durando G.; Pastero L.; Arpicco S.; Dosio F.; Zonari D.; Cravotto G.; Tagliapietra S.; Serpe L.; Turci F.; Barge A. https://iris.unito.it/handle/2318/1742718
Thermal inertization of amphibole asbestos modulates Fe topochemistry and surface reactivity
2020-01-01 Pacella A.; Tomatis M.; Viti C.; Bloise A.; Arrizza L.; Ballirano P.; Turci F. https://iris.unito.it/handle/2318/1795302
Geological Model for Naturally Occurring Asbestos Content Prediction in the Rock Excavation of a Long Tunnel (Gronda di Genova Project, NW Italy)
2020-01-01 Turci, Francesco; Cossio, Roberto; Mosca, Pietro; Irace, Andrea; Marcelli, Igor; Botta, Serena; Avataneo, Chiara; Compagnoni, Roberto; Tallone, Sergio; Piana, Fabrizio; Barale, Luca https://iris.unito.it/handle/2318/1732438
LiCoO2 particles used in Li-ion batteries induce primary mutagenicity in lung cells via their capacity to generate hydroxyl radicals
2020-01-01 Sironval V.; Scagliarini V.; Murugadoss S.; Tomatis M.; Yakoub Y.; Turci F.; Hoet P.; Lison D.; Van Den Brule S. https://iris.unito.it/handle/2318/1862659
Identification and Preliminary Toxicological Assessment of a Non-regulated Mineral Fiber: Fibrous Antigorite from New Caledonia
2020-01-01 Petriglieri, Jasmine Rita; Laporte-Magoni, Christine; Salvioli-Mariani, Emma; Tomatis, Maura; Gazzano, Elena; Turci, Francesco; Cavallo, Alessandro; Fubini, Bice https://iris.unito.it/handle/2318/1732435
Impact of the Physicochemical Features of TiO2Nanoparticles on Their in Vitro Toxicity
2020-01-01 Kose O.; Tomatis M.; Leclerc L.; Belblidia N.-B.; Hochepied J.-F.; Turci F.; Pourchez J.; Forest V. https://iris.unito.it/handle/2318/1769066
New Tools for the Evaluation of Asbestos-Related Risk during Excavation in an NOA-Rich Geological Setting
2020-01-01 Turci, Francesco; Avataneo, Chiara; Botta, Serena; Marcelli, Igor; Barale, Luca; Tomatis, Maura; Cossio, Roberto; Tallone, Sergio; Piana, Fabrizio; Compagnoni, Roberto https://iris.unito.it/handle/2318/1732436
Design, Realization, and Characterization of Advanced Adhesives for Joining Ultra-Stable C/C Based Components
2020-01-01 Casalegno V.; De la Pierre des Ambrois S.; Corazzari I.; Turci F.; Tatarko P.; Damiano O.; Cornillon L.; Terenzi A.; Natali M.; Puglia D.; Torre L.; Ferraris M. https://iris.unito.it/handle/2318/1771252
Determinanti chimico-fisici nei meccanismi di tossicità della silice
2019-01-01 Bice Fubini, Cristina Pavan, Maura Tomatis, Francesco Turci https://iris.unito.it/handle/2318/1768039
Sistema per la riduzione e il controllo dell'errore casuale e sistematico nell'immissione dei dati di input durante le misure quantitative dell'amianto al microscopio elettronico (INAMER)
2019-01-01 TURCI, FRANCESCO; TOMATIS, MAURA; PIANA, FABRIZIO; BARALE, LUCA https://iris.unito.it/handle/2318/1685456
Functionalized nanoporous gold as a new biosensor platform for ultra-low quantitative detection of human serum albumin
2019-01-01 Scaglione, F.; Alladio, E.; Damin, A.; Turci, F.; Baggiani, C.; Giovannoli, C.; Bordiga, S.; Battezzati, L.; Rizzi, P. https://iris.unito.it/handle/2318/1694719
The puzzling issue of silica toxicity: Are silanols bridging the gaps between surface states and pathogenicity?
2019-01-01 Pavan C.; Delle Piane M.; Gullo M.; Filippi F.; Fubini B.; Hoet P.; Horwell C.J.; Huaux F.; Lison D.; Lo Giudice C.; Martra G.; Montfort E.; Schins R.; Sulpizi M.; Wegner K.; Wyart-Remy M.; Ziemann C.; Turci F. https://iris.unito.it/handle/2318/1723128
Iron from a geochemical viewpoint. Understanding toxicity/pathogenicity mechanisms in iron-bearing minerals with a special attention to mineral fibers
2019-01-01 Gualtieri, Alessandro F.*; Andreozzi, Giovanni B.; Tomatis, Maura; Turci, Francesco https://iris.unito.it/handle/2318/1685454
Research topics
FT carries out research activities concerning the study of the physico-chemical properties of micro- and nanometric inorganic particulates, including silica, asbestos, and industrial powders, in relation to their toxicity.
Within the activities of the "G. Scansetti" Interdepartmental Center for the Study of Asbestos and other Toxic Particulates, of which he is Deputy Director since 2015, FT coordinates the characterization facilities that include micro-Raman, micro-XRF spectroscopy, TGA-FTIR-GCMS thermal analysis, and nano and micrometric dimensional analysis with DLS / ELS and optical automated image analysis (details here).
Svolge attività di ricerca che riguarda lo studio delle proprietà chimico-fisiche del particolato inorganico micro- e nanometrico, fra cui silici, amianti, e polveri industriali, in relazione alla loro tossicità, all'interno delle attività del Centro Interdipartimentale "G. Scansetti" per lo Studio dell'Amianto e altri Particolati Tossici di cui è Vice-Direttore dal 2015 (www.centroscansetti.unito.it). Per il Centro coordina la gestione dei laboratori di caratterizzazione che comprendono laboratori di spettroscopia micro-Raman, micro-XRF, analisi termica TGA-FTIR-GCMS, e analisi dimensionale di particolato nano e micrometrico DLS/ELS e "automated image analysis".
Research groups
Research projects
Activities in agenda
Academic bodies
Academic positions pro-tempore
2022-2025 - Presidio della Qualità di Ateneo (PQA)
Office hours
Su appuntamento scrivendo a francesco.turci@unito.it

Componente del Presidio della Qualità 2022-2025 (area Ricerca, Terza Missione e Responsabilità Sociale)