Domenica Marabello
Researcher
SSD: CHIM/03 - general and inorganic chemistry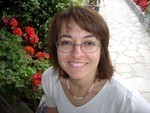 Contacts
0116707505
0116707855
Via P. Giuria 7
At
Department of Chemistry
Dipartimento di Chimica
Corso di laurea in Chimica e Tecnologie Chimiche
Corso di laurea magistrale in Chimica Clinica Forense e dello Sport
Corso di laurea magistrale in Chimica Industriale
Corso di studi in Chimica
Laurea Magistrale in Medicina e Chirurgia - sede di Torino
PhD in Chemical and Materials Sciences
Curriculum vitae
Curriculum Vitae (26.5 KB)
Research topics
Scientific Interests: Cristallography, Single Crystal and Powder X-ray Diffraction
Research:
1) Synthesis and characterization of new nanoparticles based on sugars and alkaline earth-metal alogenide MOFs, to use as nanosensors and radiotherapy.
D. Marabello, P. Antoniotti, P. Benzi, C. Canepa, E. Diana, L. Operti, L. Mortati, M. P. Sassi, Non-linear optical properties of b-D-fructopyranose calcium chloride MOFs: an experimental and theoretical approach, J Mater Sci 50, 12 (2015), 4330-4341
2) Sinthesis and X-ray diffraction characterization of vanadyl complexes with acetilacetonate derivatives, with anti-cancer properties.
S. Sgarbossa, E. Diana, D. Marabello, A. Deagostino, S. Cadamuro, A. Barge, E. Laurenti, M. Gallicchio, V. Boscaro, E. Ghibaudi, Synthesis, characterization and cell viability test of six vanadyl complexes with acetylacetonate derivatives, J. Inorg. Biochem. 128 (2013), 26-37
3) Powder X-ray diffraction Applications on crystalline and semi-cristalline materials with forensic interest.
D. Marabello, P. Benzi, A. Lombardozzi, M. Strano, X-ray powder diffraction for characterization of raw materials in banknotes, J. Forensic Sci., (2017) in print
Research groups
Research projects
Activities in agenda
Academic bodies
Office hours
Tutti i giorni su appuntamento concordato per e-mail