Alessandro Cossard
Research fellow
SSD: FIS/02 - theoretical physics, mathematical models and methods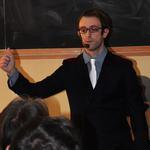 Contacts
n/d
n/d
Dipartimento di Chimica, gruppo di Chimica Teorica, Via Pietro Giuria 3, Torino
At
Department of Chemistry
Dipartimento di Chimica
Curriculum vitae
Curriculum Vitae (0.3 MB)
Selected research products
Cossard A, De Francisci Morales G, Kalimeri K, Mejova Y, Paolotti D, Starnini M (2020)
Falling into the Echo Chamber: the Italian Vaccination Debate on Twitter
Internation Conference on Web and Social Media
https://arxiv.org/abs/2003.11906
Destefanis M , Ravoux C , Cossard A , Erba A (2019)
Thermo-elasticity of materials from quasi-harmonic calculations.
Minerals
https://iris.unito.it/handle/2318/1710536
Research topics
After my master, in 2018 I won a scholarship at the Department of Chemistry at the University of Turin. My work dealt with the implementation into the CRYSTAL software of some routines for the DFT theory. In particular, I coded in c++ some routines to calculate the second derivatives of in the framework of the Coupled Perturbated Hartree Fock method for computing the optical properties of solid-state systems.
Later in 2018 I won the scholarship from the Lagrange Project granted by CRT foundation and so I spent one year at ISI Foundation in Turin. There, I study in deep the field of Network Science and Machine Learning, applied in the field of social goods. My and my supervisor examined the extent to which the vaccination debate on twitter is conductive to potential outreach to the vaccination hesitant. To do this, we mapped the debate among people who are in favor or against the vaccination and we found that pro-vax and anti-vax segregate into two topologicaly different echo-chambers.
In November 2019 I started my Ph.D. in Chemistry and Material Science. I am currently working on implementing, into the CRYSTAL code (https://it.wikipedia.org/wiki/CRYSTAL), of some routines to extend the Bader topological analysis to f and g-orbitals.
In parallel with my academic research, I usually give lectures as scientific dissemination. Please feel free to contact me if you are interested in organizing conferences or seminars.
For the details of my research and scientific dissemination, please visit my website https://www.alessandrocossard.com/
Research groups
Activities in agenda